Rangko Cave Tour become one of the best choice for your tour around Labuan Bajo, Rangko Cave will be the main destination on this kind of tour package. Rangko Cave is like a private swimming pool that offers silence for anyone who stops by to feel the freshness of the water in it. The water contained in the cave is salt water. The water is sourced from sea water, this is because there are cavities or fissures that connect the pond in the cave with the high seas.
Beside of visit Rangko Cave, on this full day tour we will also visit some other destinations such as Bukit Cinta, and Puncak Waringin..
The interesting places to be visited during Rangko Cave Tour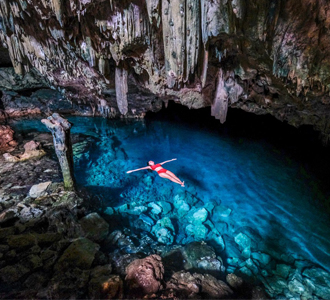 Rangko Cave
An illustration of the might of the Supreme Being in creation is Rangko Cave Labuan Bajo. Listen to the following descriptions of unusual artifacts in Komodo and Flores, East Nusa Tenggara, to quell your curiosity. Never assume a cave to be a gloomy, dark place; the beauty of Rangko Cave in Rangko village, West Manggarai, will shatter such notion. Rangko Cave is the greatest if you're seeking for a location that embodies Derek Jester's comment, "My best vacation is a place where I can hide, a warm place, and not many people around." The fact that this location is not frequently visited will give you the impression that you are swimming in a private pool. The architecture of the natural structures seen in caves can be an aesthetically pleasing sight. To experience swimming in a natural pool similar to a private pool, you must travel to Rangko Cave Labuan Bajo.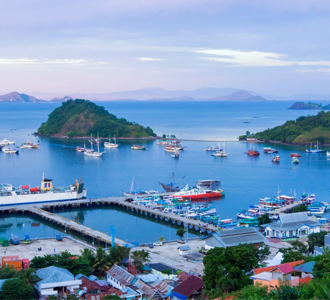 Puncak Waringin
Want to relax while enjoying the beauty of Labuan Bajo from a height? This place is the answer. Yes, Puncak Waringin is at an altitude of 45-54 meters above sea level. No wonder you can see most of the Labuan Bajo area. Even before it was laid out, this place has long been a favorite place for tourists and local residents to enjoy the beautiful sunset. The area that has just been arranged is one of 30 tourist destinations and villages in Flores, Lembata, Alor, Bima (Floratama) which are included in the travel map of the Labuan Bajo Flores Authority Executing Agency (BPOLBF). In the past, even though it presented beautiful views, this place could be considered quite dangerous. Thankfully, now along the Puncak Waringin area, guardrails have been installed so that visitors can safely and comfortably enjoy the beautiful sunset in the sea of Labuan Bajo.
Bukit Cinta
Initially, this tourist spot did not have a name at all. Just because many people come with their lovers just to chat and take pictures, this hill is called the Hill of Love. Coupled with beautiful sea views, as well as a romantic atmosphere. So, it's incomplete if you come to this place alone. Bukit Cinta Labuan Bajo is located on the plains of Labuan Bajo, West Manggarai, West Flores. The location is about 10 minutes north from the center of Labuan Bajo City or the airport. Travel can be done using two-wheeled vehicles and four. Arriving at the foot of the hill, tourists must walk up to the top to enjoy the various beautiful views presented at the location. The hike can take 20 – 30 minutes. Hills of love are found in various regions in Indonesia. All of them have the theme of a romantic and natural atmosphere at a height with amazing views.
Rangko Cave Tour - Full Day Exotic Labuan Bajo Tour Itinerary:
- Pick up from hotel and drive to Bajo Village to take a traditional boat to reach Rangko Cave, then you will have your leisure time at Rangko Cave by swimming or relaxing at the natural pool.
- After that, we will head back to Bajo village by boat.
- Drive to Bukit Cinta, you will enjoy the fabulous views.
- Drive to Puncak Waringin to experience the beautiful views of Labuan Bajo fishing village, and beautiful islands in front of Labuan Bajo harbor.
- Drive back to your hotel or airport.